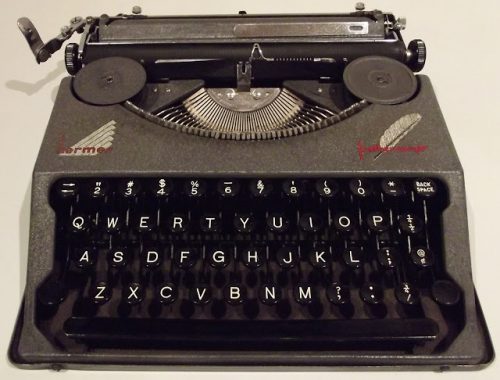 At least since the 1980s, home working has been touted as a trend with potential environmental benefits. Since the arrival of mobile phones, portable computers and the internet in the 1990s, the focus has shifted to "remote" or "agile" working, which includes working at home but also on the road and in so-called third places: coffeeshops, libraries or co-working offices.
According to a 2014 consultancy report, "the vast majority of jobs in most organisations can be accomplished from virtually any PC or mobile device, from just about anywhere". Upon a closer look, however, wireless computing isn't that revolutionary as you would expect. The laptop and the internet have eroded the anchoring function of the office, but this is only a novelty if you compare with the office of 25 years ago. In a larger historical context, not that much has changed.
The Hermes Featherweight. Source: ozTypewriter.