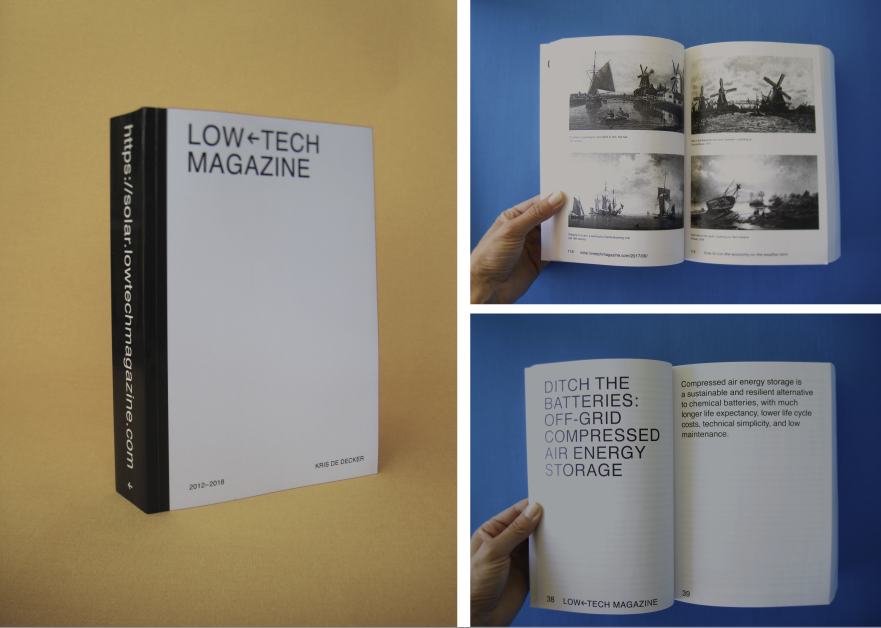 After 12 years, sister blog Low-tech Magazine finally makes the jump from web to paper. The first result is a 710-page perfect-bound paperback which is printed on demand and contains 37 of the most recent articles from the website (2012 to 2018). A second volume, collecting articles published between 2007 and 2011, will appear later this year.
Book Design
The books are based on the same electronic documents that make up the solar powered website of Low-tech Magazine — all articles were converted to Markdown, a lightweight markup language based on plain text files. Therefore, the content is almost identical.
Both the books and the website use dithered images, albeit for different reasons. On the solar powered website, dithered images reduce page size and thus energy use. In the book, dithering makes it possible to also include low resolution images. The first volume contains a selection of 159 illustrations.
Why Paper?
The books can be read when the solar powered website is down due to bad weather. In fact, the content can be viewed with no access to a computer, a power supply, or an industrial civilization. A printed website also serves to preserve the content of Low-tech Magazine in the longer run. Websites don't live forever, and the internet should not be taken for granted.
Print on Demand
Printing is done on demand, meaning that there are no unsold copies (and no large upfront investment costs). Our US publisher Lulu.com works with printers all over the world, so that most copies are produced locally and travel relatively short distances.
The first book sells for $25.20, which converts to 23.80 euro at the current conversion rate. Delivery rates (for books ordered through Lulu) vary by country, but if one accepts the longest delivery times (up to 11 working days), costs can be as low as $3. Note that it also takes 3 to 5 work days to print the book.
Book design by Lauren Traugott-Campbell. Book images by Adriana Parra.
Low-tech Magazine 2012-2018, Kris De Decker, ISBN 9780359478330, 710 pp., March 2019.