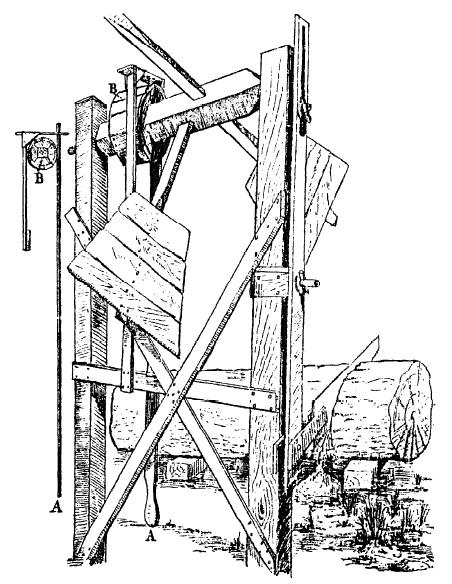 "The merit of homemade mills has enjoyed such prompt recognition that they are going up daily. Not to the detriment, we are happy to say, of those important adjuncts to the farm, the shopmade mills, but in addition to them.
In a given community, the man who puts up the first mill generally furnishes the model for the rest of the community. Hence it seems the more desirable that good models should be at hand, the better models are often of quite as easy constructed and no more expensive than the poorer, and their efficiency considerably greater.
It is advantageous to have good models to copy, and the next best thing to the actual model is a good simple drawing. This is the first object of this paper on our homemade windmills; it aims to supply cuts illustrating all sorts of windmills, as found in this State."
"The homemade windmills of Nebraska" (pdf), Erwin Hinckley Barbour, 1899. Illustration: a wind powered sawing machine.
Related: Windmills and wind motors – how to build and run them (1910), Building plans of Dutch Industrial windmills (1850).