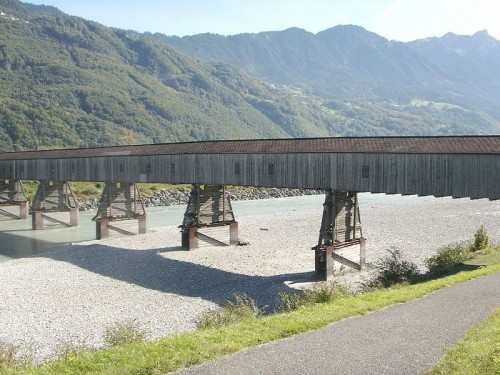 "This manual is intended to provide comprehensive support to those involved with maintaining, assessing, strengthening, or rehabilitating covered bridges, especially heavy timber truss bridges. At one time, the United States reportedly had 14,000 of these unique bridges dotting the countryside over a surprisingly large area. Now, fewer than 900 of the historic structures survive.
Timber bridges initially were built without coverings and failed in just a few years because of rot and deterioration, because chemical wood preservatives were not available or used. Builders familiar with the construction of houses, barns, and large community structures naturally added siding and roofs to help protect the bridge. They understood that the covering would soon pay for itself.
They believed that regular maintenance and occasional replacement of the light covering was far easier and cheaper than building an entirely new bridge. North American covered bridges still serve after nearly 200 years, due in part to the continued soundness of the trusses, which was possible only with these protective coverings."
"Covered Bridge Manual", 327 pages, US Department of Transportation, 2005. Via Arquitectura y madera. Previously: wooden bridges / wooden pipelines. Picture by Rainer Ebert.