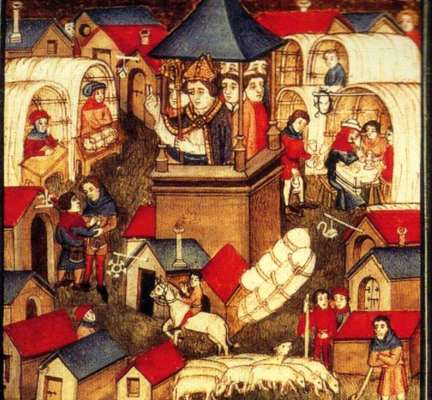 After quitting Soberton Down, we came up a hill leading to Hambledon, and turned off to our left to bring us down to Mr. Goldsmith's at West End, where we now are, at about a mile from the village of Hambledon.
A village it now is; but it was formerly a considerable market-town, and it had three fairs in the year. Wens [large overcrowded cities] have devoured market-towns and villages; and shops have devoured markets and fairs; and this, too, to the infinite injury of the most numerous classes of the people.
Shop-keeping, merely as shop-keeping, is injurious to any community. What are the shop and the shop-keeper for? To receive and distribute the produce of the land. There are other articles, certainly; but the main part is the produce of the land. The shop must be paid for; the shop-keeper must be kept.
When fairs were frequent, shops were not needed. A manufacturer of shoes, of stockings, of hats; of almost anything that man wants, could manufacture at home in an obscure hamlet, with cheap house-rent, good air, and plenty of room. He need pay no heavy rent for shop; and no disadvantages from confined situation; and then, by attending three or four or five or six fairs in a year, he sold the work of his hands, unloaded with a heavy expense attending the keeping of a shop.
Quoted from: "Rural Rides", William Cobbett, 1830.