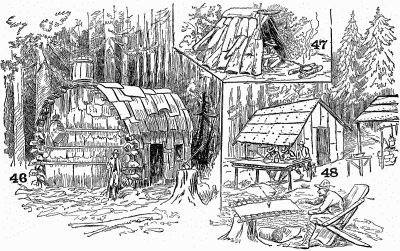 "Shelters, Shacks, and Shanties presents lively, step-by-step tutelage
on building all types of temporary and long-term accommodations from both natural and man-made materials. Published in 1914, this practical classic is as essential a guide for today's modern homesteader as it was at the turn of the twentieth century.
Included are instructions for dozens of worry-free shelters for you to chose from, including a sod house for the lawn, a treetop house, over-water camps, a bog ken, and much more. Satisfying the builder's need for the creature comforts of home, it also provides tips on how to build hearths and chimneys, notched log ladders, and even how to rig a front door with a secret lock. Illustrated throughout with a bounty of helpful line drawings, Shelters, Shacks, and Shanties harkens back to the can-do spirit of the American frontier that still thrives today."
Shelters, Shacks, and Shanties; and how to build them", D.C. Beard, 1914 (Gutenberg free e-book). The description is from the 2008 edition (Amazon). Thanks to Thurston.