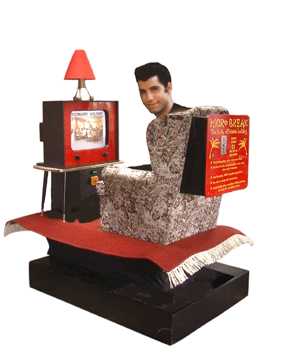 As mini-break holidays become ever more popular, now is the perfect time to launch a new concept in today's fast moving, time strapped world, the Micro-break. Simply sit on the chair and the carpet tips and rocks as you watch a TV animation of your flight and coach transfer, ending up on a tropical beach. At this point the TV lamp swings up, shining a heat lamp in your face. After soaking in the heat, you're whisked home again, the whole experience lasting less than 3 minutes.
Microbreak was my first attempt at making a simulator ride and also my first attempt at 3D animation, so it was particularly exciting. It's also my favourite because I really struggle with real holidays. Holidays are essential for people who have stressful jobs or hate their jobs. But I enjoy working and don't find it stressful. I like travelling for work, to have a reason to go somewhere, but find holidays more stressful than work and often thoroughly depressing.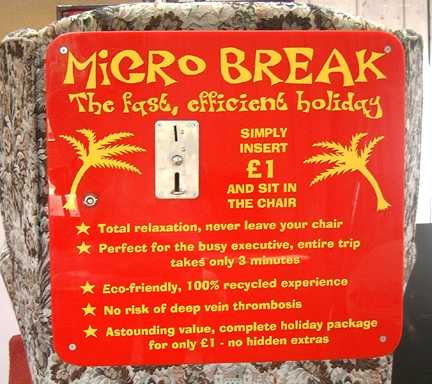 This simulator ride is built on the chassis of a 1985 Sega Space Harrier arcade game. This provides the wonderful tipping and rocking mechanism. The animation is filmed in a model landscape made of weathered lumps of PU foam, which originally came from a float used to lay a north sea gas pipeline.
Written by Tim Hunkin.
Micro Break is on display at Novelty Automation, a new London arcade of Tim Hunkin's home-made machines. All machines are introduced on the website, but if you're in London we suggest you just head over to 1a Princeton Street (a 5 minutes walk from Holborn station) and suprise yourself.