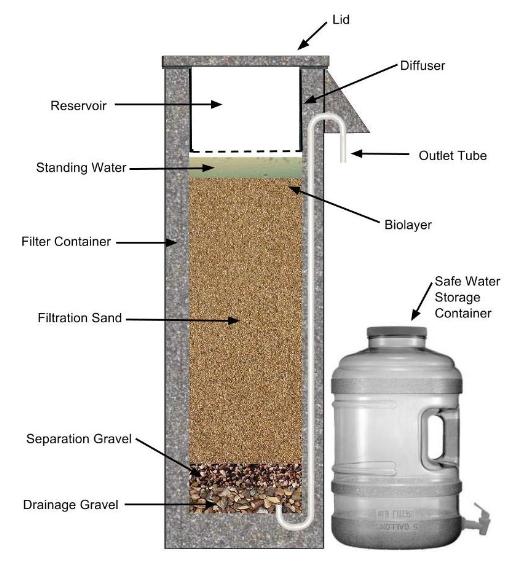 Biosand Filters use sand, gravel, and natural biological process to filter out contaminants in water, making it safe for drinking. They're a great low-tech drinking water solution:
No electricity or running parts to operate the filter
Made with 100% locally available materials (unlike larger community based systems where foreign parts typically need to be imported)
Labor intensive NOT capital intensive
Very durable, can last more than 25 years if maintained properly
Little maintenance required
Very effective for removing bacteria, protozoa, helminths from water and reducing turbidity
The main problem with concrete biosand filters is they require a heavy, expensive steel mold to make. Concrete must be poured into the mold and allowed to cure overnight before the filter body is removed. These steel molds are very expensive and require an experienced welder to make, meaning that many communities or local NGOs do not have the technical capacity or financial resources to start a biosand filter project.
The NYC based non-profit OHorizons saw an opportunity for innovation in the concrete BioSand Filter manufacturing process. By engineering an alternative wood mold, they've greatly sped up the biosand filter production process. The wood mold allows on-the-ground organizations to manufacture and install biosand filters for a fraction of the upfront cost as traditional methods. The advantages of the wood mold are the following:
Durable (~50 filters/mold)
Cheap (~$50-80/mold)
Lightweight (~ 60 lbs)
Locally-Sourced Materials (all materials purchased in-country and easily replaced)
Easy to use (no special skills or previous construction experience required)
Can be made off-grid
OHorizons' Resources Page contains an 81-page how-to guide for the construction of the wood mold, open source and free to download, as well as backgound information about biosand filters. The non-profit has run succesful projects in Mali, Ecuador and Bangladesh.