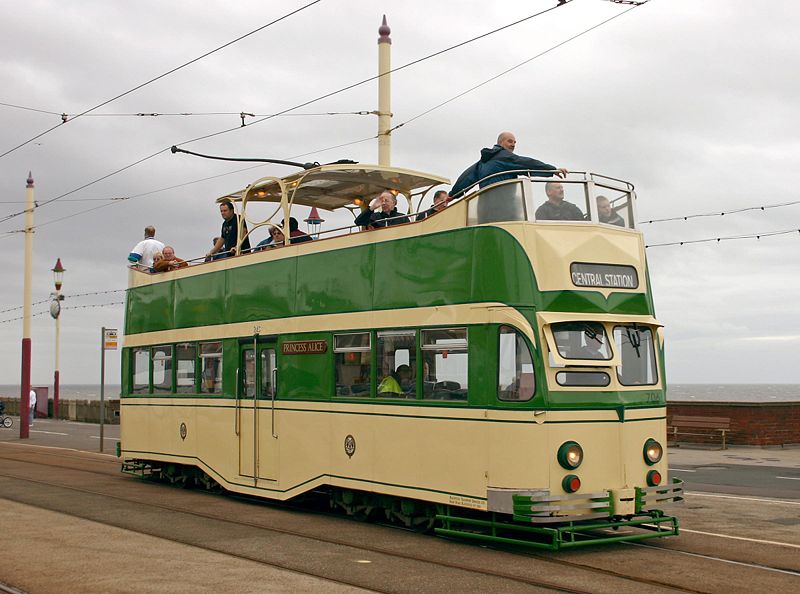 They have the worst weather in the world, but they also have the hottest looking open top trams (streetcars). Welcome onboard the 1930s Blackpool Balloon cars in the UK. Alan Robson has around 1,300 pictures of the vehicles, some of them below. Text and first picture from Wikipedia.
Double-deck tram systems
"The Blackpool tramway runs from Blackpool to Fleetwood on the Fylde Coast in Lancashire, England, and is the only surviving first-generation tramway in the United Kingdom. The tramway dates back to 1885 and is one of the oldest electric tramways in the world. It is run by Blackpool Transport (BTS) as part of the Metro Coastlines, owned by Blackpool Borough Council. The tramway runs for 11 miles (17.7 km) and carries 6,500,000 passengers each year. It is also one of only three operational tramways in the world that operates using double-deck tram systems, the other two places being Hong Kong and Alexandria in Egypt."
All Blackpool trams pictured here are balloon cars:
"Commissioned in 1933 by Walter Luff, the controller of the network, in a bid to modernise the tramway's fleet, they were intended to replace the Dreadnought cars that had been in service since the opening of the tramway. They were built by English Electric during 1934 and 1935, the first being presented to Blackpool on 10 December 1934. 27 were delivered, of which thirteen were open-topped. Numbered 237-263 and used on both summer and winter services. They had central doors and stairs, with a capacity of 84-94. Half-drop windows provided ventilation and art deco curved glass lights provided electric lighting."
Open-top cars
"The enclosed-top trams had sliding roof windows and thermostatic-controlled radiators. The closed top cars originally worked on the Squires Gate service, and it was during this time that they became known as Balloon Cars because of their rounded streamlined appearance."
"During World War II the need for the open-top cars fell significantly and cars 237-249 had their tops enclosed to look almost like 250-263. Also during this period the fleet was painted in a dark green and cream livery in order to conserve paint and time, as well as to reduce the chances of their being spotted from the air."
Another remarkably vehicle on the Blackpool Tramway is the boat car (also to be found in San Franscisco).
"Built by English Electric in 1934, these cars are single deck open-topped models with central doors and gangway. They are numbered 600-607 and have a passenger capacity of between 52 and 56. These cars are known as 'the boats' due to their ship-like streamlined appearance and are one of the most iconic Blackpool trams. All cars are virtually identical, except for 600, which has shorter body panels."
"The boats were first commissioned by Walter Luff in 1933, in accordance with his five year plan. The first prototype boat arrived in Blackpool during early spring in 1934 along with four other designs. After an initial trial period, company directors approved an orders for eleven more production cars, which arrived in July and August 1934. These new boats were numbered 225-236."
In June 2009, the government gave the go ahead for a tramway upgrade. Sigh.
More information on balloon cars and on boat cars.
Composition of the fleet.