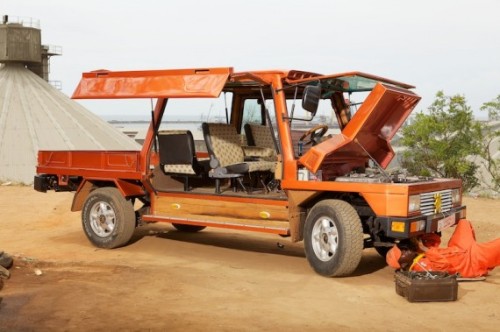 Today's cars look like spaceships and are built by robots in futuristic factories. At least, that's the picture in the developed world.
In Ghana, West Africa, both the cars and the auto industry look rather different. In a neighbourhood called Suame Magazine, an estimated 200,000 artisans take apart discarded western cars and use the parts to build easily repairable vehicles that are suitable for African roads. All this happens manually and in open air.
Artist Melle Smets and researcher Joost van Onna, both from the Netherlands, set up shop in Suame Magazine and built a unique African concept car in collaboration with the local community: the SMATI Turtle 1. Their project calls into question western ways of dealing with technology, waste, employment and automation.
Picture: The SMATI Turtle 1
Large cargo ships bring thousands of used cars from Europe to the African markets every week. In Ghana, these vehicles are transported from Tema harbour to Suame Magazine, 10 km north of Kumasi, to get a total makeover. Originating in the 1920s when blacksmiths started to shift their attention from carriages to cars, Suame Magazine now employs an estimated 200,000 artisans in 12,000 enterprises.
It is a self-organizing system capable of building almost anything using car parts; fences, swings, water pumps, carbide compressors, welding machines, but most of all vehicles adapted to the African market. Everything is recycled. Even the unrepairable car parts have a destination: the blast furnace, which melts broken engine blocks into new iron products.
Suame Magazine might look chaotic to Western eyes but all the same it produces cars. Better cars, in a sense. Western automobiles have become so sophisticated that once they break down you cannot repair them yourself.
Stripped to the Bone
In Suame Magazine, first the cars are stripped to the bone. Secondly, all computerized devices are thrown out. A sustainable African car has to be mechanical. When the car is stripped the construction process can begin. The result is a strong and simple car ready to carry heavy loads, with extra cargo space, a mechanical motor, a stronger chassis, stronger rims and iron springs. African roads demand very strong cars. The European cars are too weak.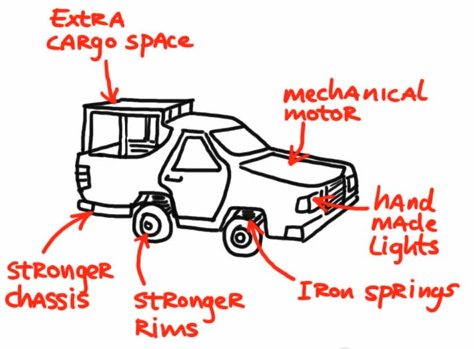 The SMATI Turtle 1
Melle Smets and Joost van Onna traveled to Kumasi in February 2013 to build an African concept car in collaboration with the local artisanal community. The vehicle, which is called the SMATI Turtle 1, was built according to the motto "Let's make things simple", and satisfied the following criteria:
it was entirely built in Suame Magazine from locally crafted, refurbished and used parts from different brands of discarded cars;
it is robust and easy to assemble, re-assemble and repair;
it is a prototype of a car potentially fit for the African market;
it provides the driver and passengers with a superb experience of the landscape when driven;
it was built in a time frame of just 12 weeks.
The completed car made a test drive through Ghana, and was inaugurated by the Ashanti king. The SMATI Turtle 1 was then exported to the Netherlands. In this way, discarded car parts which were once exported to Ghana were sent back to where they came from in the shape of a unique automobile. Smets and van Onna have made a website and a video about the SMATI Turtle 1, which was the source material for this post.
The car will be presented at the international IMPAKT festival in Utrecht (the Netherlands) from October 30 to November 3, 2013. This year's festival theme is "Capitalism Catch 22". I will be one of the speakers at the IMPAKT festival, so I hope to tell you more about the vehicle in two weeks.
Related articles