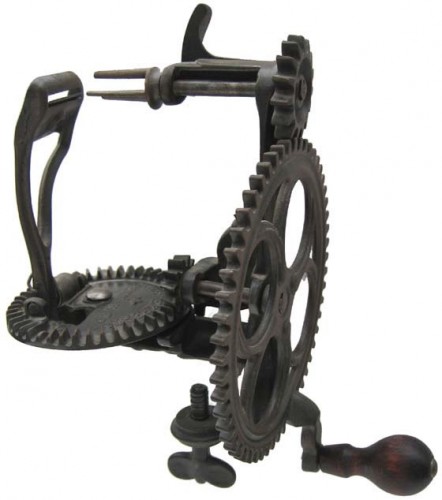 Hand powered apple peelers can peel, core and cut apples with amazing speed and precision. They were available in a surprisingly large variety.
The 18th and 19th century saw a growing need for apples as a winter staple for both food and drink. Apples needed to be processed for winter storage. Paring, coring, and cutting enough apples for winter was difficult and time consuming.
Farmers used their creative skills to make wooden machines that made the process quick and efficient. Industrialization and the use of iron during the 19th century witnessed an explosion of patented creativity. More than 100 patents were granted from 1850 to 1890. Apple peelers were also used as a kitchen device.
There is a full website dedicated to hand powered apple peelers, explaining in detail the use, history and workings of the devices and showing many pictures and videos.