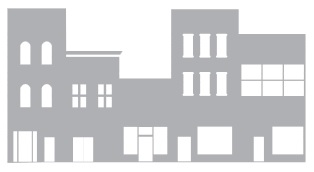 "All across America, blocks of older, smaller buildings are quietly contributing to robust local economies and distinctive livable communities. This groundbreaking study demonstrates the unique and valuable role that older, smaller buildings play in the development of sustainable cities.
Building on statistical analysis of the built fabric of three major American cities [San Francisco, Seattle, and Washington, D.C.], the research demonstrates that established neighborhoods with a mix of older, smaller buildings perform better than districts with larger, newer structures when tested against a range of economic, social, and environmental outcome measures."
"Older, Smaller, Better. Measuring how the character of buildings and blocks influences urban vitality", National Trust for Historic Preservation, May 2014. Via Lloyd Alter.