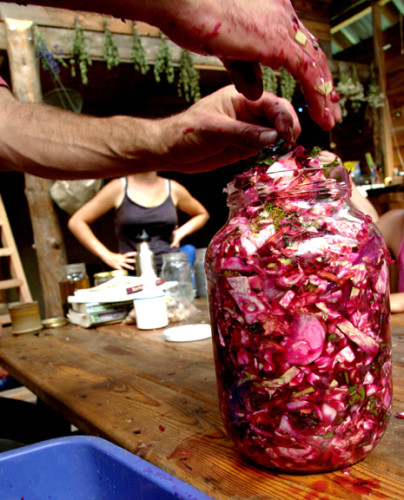 "Extracting nutrition via the bacteria and yeasts that live on the surfaces of food sources has traditionally enabled people all over the world to make use of seasonal abundance for leaner times. In a climate-constrained future, when the use of fossil fuels (and thus refrigeration) will need to be greatly reduced, fermentation could play a key role in preserving both our food and our cultural diversity.
Before refrigeration came into our houses and global supply chains, most of our winter stores were salted, pickled, and dried. Many of the strong compelling flavors found in European delicatessens come via fermentation: cheese, salami, gherkins, vinegar, olives. Likewise the mainstays of Oriental cuisine—soy, miso, and tempeh—and the whole of the world's drinks cabinet, including everyday luxuries such as coffee and chocolate.
If you were wary of venturing into this unknown territory alone, you could not hope for a more enthralling guide than Sandor Ellix Katz: "My advice is to reject the cult of expertise. Do not be afraid. You can do it yourself." There is no recorded case, he assures us, of poisoning from fermented vegetables."
Read more: Fermenting Change. Thanks to Aaron Vansintjan. More low-tech food preservation.