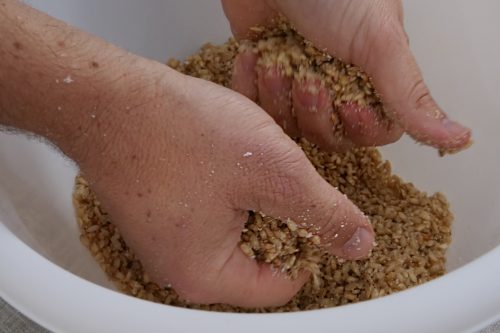 There is a moment in the life of fruits and vegetables that has always puzzled and fascinated me. Put out a dish of strawberries, and in days some darker spots will appear. Maybe a thin tendril of mold sprouts out from the strawberry's body. At this point, you can still eat it, simply by cutting off the moldy bit. But all of a sudden, the strawberry has clearly died. It's inedible, sour. It has passed over in to the world of bacteria, mold, and minerals—it is no longer a self-regulating organism. It has stopped being an individual, but has become multitudes.
How does this happen? When is an organism living, and when is it dead? Where does death come from, and why does this change of state happen so quickly? Amazingly, we've developed some techniques to play with this boundary between life and death, stretch it, and blur it. I'm not talking about cryogenic freezing, blood transfusion, lab-grown meat, or any other modern technology. I'm talking about fermentation, the process of controlled decay of living organisms.
From coffee to ketchup, bread to sausage, wine to cheese, fermented foods are all around us. These types of fermentation tend to happen in far-off factories. Coffee berries are fermented before they're roasted. To make ketchup, tomatoes are puréed en masse, left to rot, then heated to kill the bacteria. We usually don't get the chance to see for ourselves the transformation of life—into other forms of life.
But you can. In this essay, I talk about fermentation: what makes it so magical, why people are so afraid of it. I talk about some strategies people use to make fermentation part of their daily life, and why modern life makes it so hard to do so. And finally, I speak to the ethics of fermentation—what we can learn from it and how it can help us think differently. [Read more…]