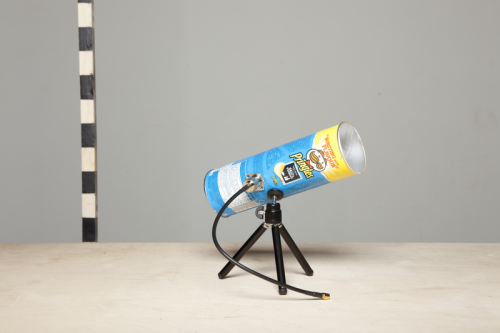 Pretty Fly For A Wi-Fi revisits the histories, origins and uses of self-made Wi-Fi antennas. Many of these designs were once shared through home pages that no longer exist and are now only partially accessible through the Internet Archive. It is a combination of pots and pans, dishes and cans through which people from around the world give shape to their collective dream of making an alternative internet.
This project tries to revive these designs by rebuilding, testing and documenting them. The antennas serve as an interesting point of departure to think about the internet's infrastructure and how day-to-day users could potentially influence its shape and use.
Most of the antennas result out of the idea of wireless community networks, an idea which emerged shortly after the commercial introduction of Wi-Fi equipment in the early 2000s. These grassroots initiatives aim to build alternative network infrastructures, often on a peer-to-peer basis and without the need for costly wires. Such network infrastructures can be found on rooftops, balconies and windowsills and can cover large distances by broadcasting from building to building.
They are built for a variety of reasons, sometimes to provide broadband connections in areas where there are none, to make censorship free alternatives to the internet or to share the costs of a single internet connection.
More: Roel Roscam Abbing's website (pictures) & Lídia Pereira's booklet (drawings, PDF).
Previously: How to Build a Low-tech Internet.