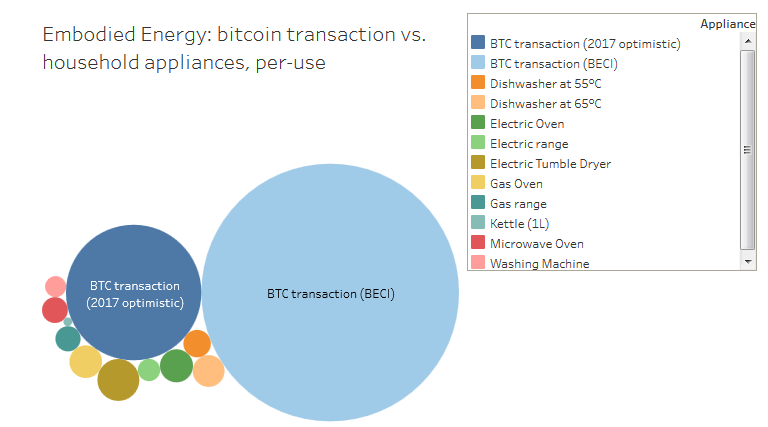 Bitcoin is back in the spotlight these days thanks to some wild price movements and central bank meetings. The decentralized currency has recently been trading over its all-time high of $1200 on some exchanges. But the higher the price goes, the more it exacerbates bitcoin's dark side: shocking levels of electricity consumption.
In 2015, I wrote that bitcoin had a big sustainability problem. Back then, each bitcoin transaction represented roughly enough electricity to power 1.57 American households for a day— approximately 5,000 times more energy-intensive than a credit card transaction. Since it's been two years, it's time for an update.
Updated calculations with optimistic assumptions show that in a best-case hypothetical, each bitcoin transaction is backed by approximately 90 percent of an American household's daily average electricity consumption. So even though that's still about 3,994 times as energy-intensive as a credit card transaction, things could be getting better since 2015.
Unfortunately, it's more likely that things are getting worse. A new index has recently modeled potential energy costs per transaction as high as 94 kWh, or enough electricity to power 3.17 households for a day. To put it another way, that's almost enough energy to fully charge the battery of a Tesla Model S P100D, the world's quickest production car, and drive it over 300 miles.
Read more: A Single Bitcoin Transaction Takes Thousands of Times More Energy Than a Credit Card Swipe, Christopher Malmo. Thanks to Renaud d'Avout d'Auerstaedt.