Mountains of food scraps end up in landfills every day. While northern countries glorify attempts to facilitate this trash-to-treasure process using state-of-the-art technologies, Bobbili, a town in Northeast India, adopts a tech-free solution – a park using animals for solid waste management.
Lowly as it may seem, Bobbili prides itself on its zero-waste zone with a comprehensive recycling system that ensures nothing goes to the landfill. Their unique solution involves door-to-door collection of household waste strictly separated as dry and wet, and the 2010 ban on plastic. The spotlight of the scheme is the Municipal Solid Waste Park – a 8.5-acre site comprising a bio-compost yard handling 2.5 to 3 tonnes of organic waste a day. The most innovative part is the utilisation of livestock.
A 2012 report by India's Regional Centre for Urban and Environmental Studies states that "animals are the part of the solution, not the problem. The livestock's potential contribution in solving environmental problems is equally large. The livestock contribute to tackle our environmental degradation by a variety of ways."
By 2012 the park kept 4 chickens, 21 ducks, 6 pigs and other animals for different functions. Chickens are benefited from the insects in the waste, whilst pigs would gulp the food waste collected from hotels. Ducks take care of the leftovers collected from the fish market. Dogs are in charge of domestic leftovers. The 'park farm' is probably the first in the world to implement animal feed on a municipal level.
The animal farm takes its inspiration from the history of feeding animals with organic waste. Dogs, especially domesticated ones, are effective in taking care of meat scraps. As a common practice in traditional pig farming, pigs often consume the leftovers, rather than energy and cost-intensive crops. Ducks and chickens respectively favour kitchen scraps and milling by-products. Given the extraordinary effectiveness of earthworms to decompose vegetable and food wastes, vermicompost is another key of this living waste management system.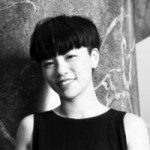 Besides the fact that landfill relief means avoided methane emission, animal waste can be a sustainable source of natural fertiliser whose cost and carbon footprint are way lower than artificial ones. More importantly, because the system doesn't involve complex technologies, it can be easilly implemented – though in a smaller scale – on household levels. Just by keeping dogs and resuming the tradition of backyard chicken, we can easily reduce kitchen scraps and contribute to a significant cut in food waste.
This is a guest post by Ren Wan, a writer and sustainability advocate who is based in Hong Kong. She runs JupYeah, an online swapping platform, is a managing editor for WestEast Magazine, and blogs at Loccomama. Ren previously wrote about Furoshiki, a square cloth that with different wrapping techniques can basically transport anything.