French designer and researcher Gauthier Roussilhe was inspired by our solar powered website and built a low-tech website himself, documenting the process in detail (and in English). It's a great work, and there's some interesting differences with our solar powered blog.
First, Roussilhe built his site with a user friendly content management system (Kirby), which is then converted into a static website. Compared to our approach, this makes it easier to build a light-weight website for those who are accustomed to working with WordPress.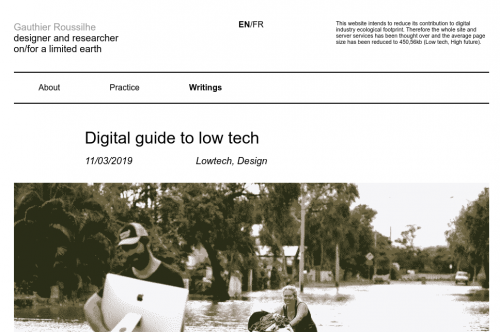 Second, the designer also tackles his videos, which are hosted on Vimeo and Youtube, and manages to reduce their "weight" by 75%. This is a major contribution, because video takes up the largest share of internet traffic.
Here's his own conclusion:
If we take stock: I reduced the weight of my site by 10, the average weight of a page by more than 3 and I reduced the weight of my videos on third-party services by 4. I have a site extremely simple to administrate, very light so very fast, which consumes very little electricity and therefore emits little GHG.

The site also follows all the canons of today's digital design: mobile-first, accessibility, loading speed. In fact it is quite surprising to realize that structural limitations (weight / energy) lead to navigation experiences much more accessible to all audiences regardless of their equipment, their connection or their imperative motricity or vision.
Read more: Digital guide to low tech.