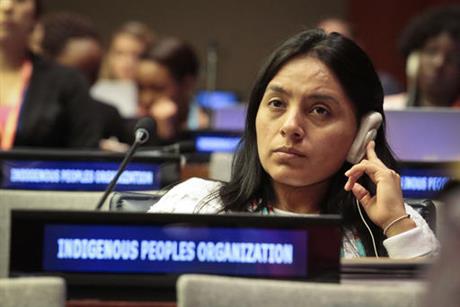 To hear Ati Quigua tell it, New York City is a place where people who don't know each other live stacked inside big buildings, gorging on the "foods of violence," and where no one can any longer feel the Earth's beating heart.
Quigua, an indigenous leader whose village in Colombia sits on an isolated mountain range rising 18,700 feet (5,700 meters) before plunging into the sea, is just one of over 1,000 delegates in town for the 15th Session of the United Nations Permanent Forum on Indigenous Issues that ends Friday.
"On top of the temples of the goddess and Mother Earth, they are building castles, they are building cities and building churches, but our mother has the capacity to regenerate," Quigua said. "We are fighting not to have roads or electricity — this vision of self-destruction that's called development is what we're trying to avoid."
Read more: Indigenous grapple with NYC bedlam, bureaucracy at UN forum, AP.