"You spot a somewhat disheveled man with three fully loaded pack mules walking though your community. What the … ?
This strange and, to many, awe-inspiring sight has been experienced by thousands of people in small towns and large cities throughout the western United States. But who is he and what is he doing? Is he lost in the wrong century? Is he homeless? Is he on a mission?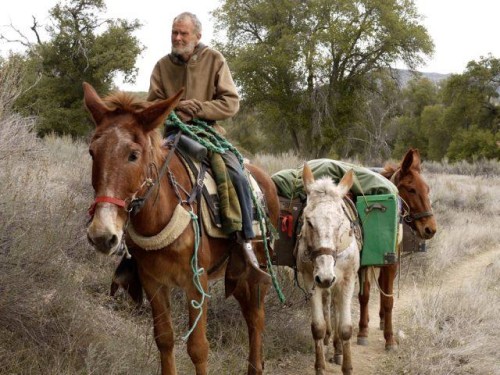 The Mules (as he refers to himself and the animals collectively) have traveled for nearly three decades through 16 states. For the last ten years they have lived outdoors. Even though he may not talk much when one first meets him, if the time and place are right, Mule will share something that he feels we should all be thinking about.
Throughout their travels, the Mules have noticed an ever increasing urban sprawl. Open spaces where they once moved through freely, and sometimes spent the night in a secluded spot, were disappearing. More and more cars filled up the roadways, and the expanding urban infrastructure seemed to serve one purpose: accommodate more automobiles.
At the same time, space for other means of self- transportation, such as bicycling, horseback riding and simply walking, were shrinking. Those alternative means of self-travel have often been confined to designated "recreation" areas. Also, as the urban environment exploded, natural habitats have vanished, or been "preserved" in spaces a fraction of the size they once were.
Mule sums it all up: "The space needed by The Mules to travel this country freely in all four directions on the landscape is being taken over by the suburban model of automobile usage, exclusively, and leaving no space for alternative venues of moving and living. In our travels, we carry that awareness and bring it to others. We're a working model for that awareness, one step at a time, all day, every day.""
Quoted from 3 mules, via LLoyd's blog.