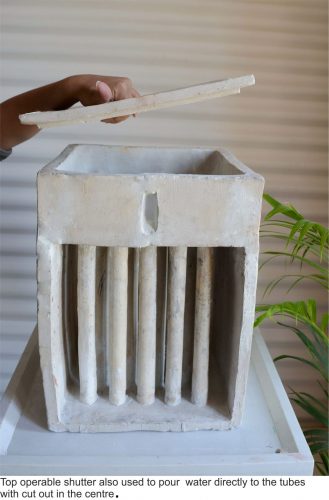 Evaporative coolers have been known to purveyors of low-cost, sustainable technologies for years. Without the need for electricity, these cold containers have kept produce fresh from farms to tables, protecting against post-harvest losses in the field and food spoilage in hot pantries worldwide.
Now the concept has been applied to air conditioning. Manoj Patel Design Studio in Vadodara, Gujarat (India) has built evaporative air conditioners that can cool a room for days on a single tank of water. The studio designs new products from recycled materials, and they built their air conditioners from ceramics and stone, integrating them with potted plants. By filling rows of ceramic tubes with water, the prototypes maximize their surface area for optimal evaporation while retaining a small footprint.
Read more: This Air Conditioner for Homes and Offices Uses No Electricity, Engineering for Change. Previously: How to keep beverages cool outside the refrigerator: the botijo.