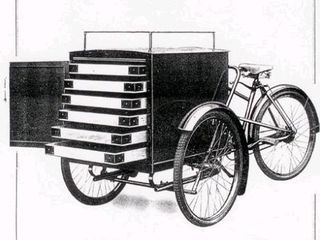 The Pashley Model CT2 is described as "a really handsome, well built and strong light delivery vehicle for confectioners, egg deliveries, grocers, accumulator stations, etc."
Found at the Museum of Tradesman's Delivery Bikes, which has a collection of (mostly) English cargo bicycles dating from 1905 to 1982. This is one of the few tricycles on the blog.
Related: Tandem Cargo Tricycle (1940) & More Vintage Dutch Carrier Bikes.